PLEASE EXCUSE THE APPEARANCE OF OUR PAGE AND LINKS AS WE ARE WORKING TO BRING EVERYTHING CURRENT

If you are looking to sign up for CodeRED please click the CodeRed link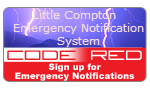 Please, Click the link below for our current page


Little Compton Fire Department

Welcome to the Town of Little Compton Fire Department. The purpose of this web page is to provide you with general information about our department; provide you with specific information about current issues affecting you and your family; update you about
our latest incidents and events; and, give you an opportunity to contact us with any questions or comments you may have.
Our site is not only designed to offer you interesting and educational information, but also to reflect the tremendous pride and spirit within our department. We maintain a great respect for our history, and a strong sense of duty towards excellent performance in the present, and we look forward to meeting the challenges of the future. The Little Compton Fire Department is committed to delivering the highest quality of service to the Town of Little Compton in the most effective, efficient, safest, and professional way possible. The fire department provides services in fire suppression, rescue, fire prevention, fire inspection, emergency medical services, ocean rescues and disaster mitigation to list a few.
Our greatest resource, by far, are the 8 dedicated full-time firefighters, and part-time firefighters, that currently make up this great department. The firefighters are committed to protecting the Town of Little Compton 24 hours a day, 365 days a year. The department has one station which houses 5 different pieces of up-to-date, well maintained fire apparatus.
Whether you are a seeking specific information or just browsing, whether you are a concerned citizen of our community, or simply a curious fire buff; we trust you will find this web site helpful and informative. We welcome your questions or comments.
Best regards,
Richard G. Petrin
Chief of Department
Fire Chief: Richard G. Petrin

RPetrin@tlcri.com
Public Safety Complex
60 Simmons Road
Little Compton,RI 02837
Website:
littlecomptonfirerescue.com
Telephone:
(401) 635–2323
Fax:
(401) 635–2013

IN CASE OF EMERGENCY DIAL 9-1-1